Study: Most pensioners perceive it somewhat easy to make ends meet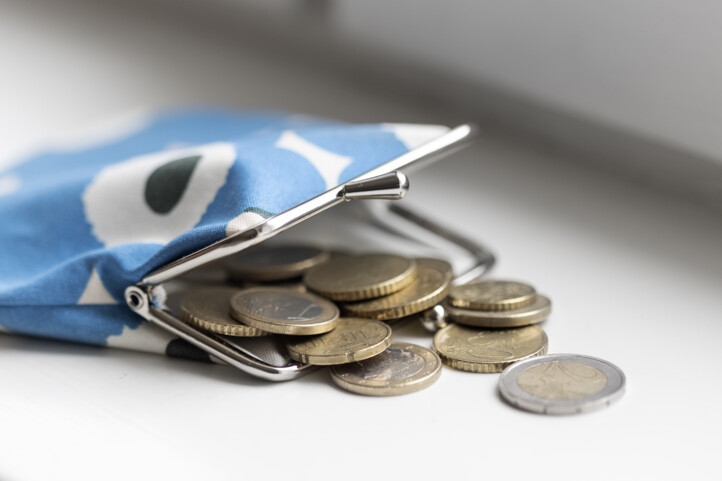 Two of three pension recipients find it somewhat easy to cover everyday expenses. However, according to a fresh study by the Finnish Centre for Pensions, one in ten reported great financial strain.
According to the study, a great majority of retirees in Finland assessed their level of financial satisfaction as average or high in 2020. The share of pensioners experiencing difficulties making ends meet has decreased.
"In 2020, around every third pensioner experienced some difficulty with everyday expenses." In 2017, the same was true for nearly one in two. A similar trend was observed also in relation to the other aspects studied," says economist Kati Ahonen (Finnish Centre for Pensions).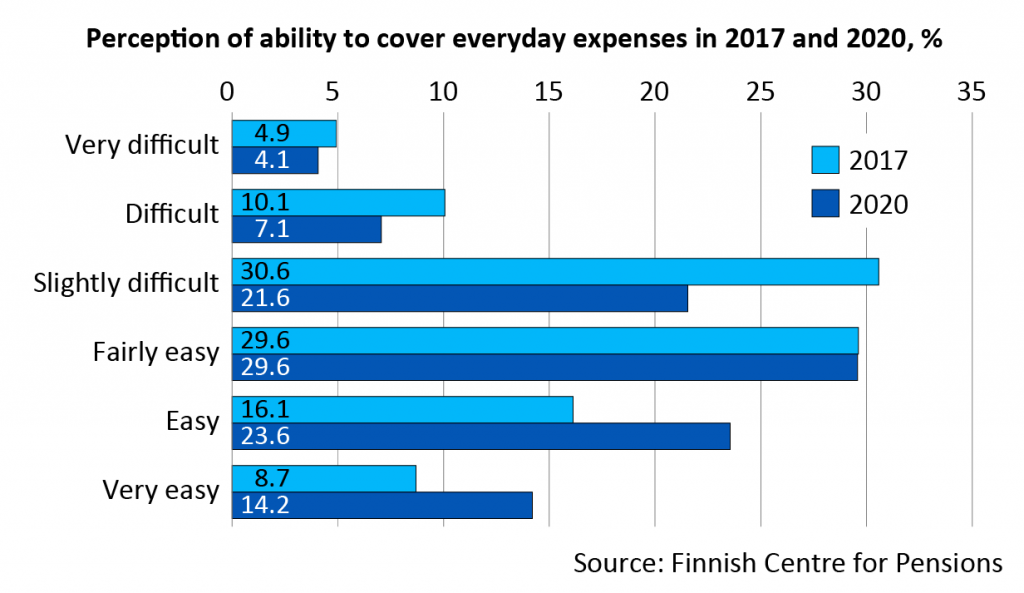 Data in graph "Perception of ability to cover everyday expenses in 2017 and 2020, %" in Excel file
Three out of four pensioners have money left over after paying for necessities. An equal share assessed that their income would allow them to cover an unexpected cost of around 1,200 euros.
"Such unexpected costs might include repairing the car or fixing something in one's home," Ahonen explains.
Every tenth pensioner reported financial strain
Senior researcher Liisa-Maria Palomäki draws attention to those who are in a weaker economic situation.
"The share of pensioners facing great economic difficulties has remain unchanged compared to 2017. Every tenth pensioner still experiences some or great difficulties covering their everyday expenses."
Particularly those under 65, those in poor health, those with a low income, those who live in rented housing and those living alone experience some or great financial strain.
Correspondingly, those pensioners who live with at least one other person, those with a higher-than-average income and those in good perceived health reported clearly less often than others of having difficulties making ends meet.
Pensioners struggle most with health care expenses
The most typical necessity pensioners struggle with are health care expenses. Around 8.5 per cent of them reported that they find it very difficult or difficult to cover these expenses and 3.8 per cent were often forced to cut back on health care expenses in 2020.
"A few per cent of the pensioners had to rely on financial assistance from their next-of-kin, the church or some other charity, income support or instant cash loans to cover for necessities," Liisa-Maria Palomäki assesses.
The data of this study by the Finnish Centre for Pensions was collected as a postal survey in September–November 2020 and September–October 2017. In 2020, a total of 1,736 and in 2017, a total of 2,909 pensioners replied to the survey. The respondents were Finnish citizens aged 55–85 years who received either a disability or an old-age pension.
Publication:
Pensioners' perceived economic welfare in 2020 compared to in 2017, Finnish Centre for Pensions, Studies 05/2021 (Summary in Julkari) 
Photo: Karoliina Paatos