Research on pension adequacy 
The primary task of pensions is to secure an income in retirement. Under this research programme, we will examine pension levels as well as pension benefits of population groups that are central to the improvement of pensions. 
Retirement often spans years and decades and includes different phases as far as income is concerned. During this research programme period, we will conduct individual-level longitudinal studies of changes in pensioners' income levels and reconduct the questionnaire survey from 2017. 
We will assess livelihood adequacy primarily based on income. We will also review the livelihood of pensioners through consumption and subjective experiences relating to livelihood. 
Under this research programme, we will monitor the Finnish working-age population's knowledge and views of pension adequacy, sustainability and key principles of the pension system. 
---
New studies
Immigration still the most popular solution to strengthen pension financing; one third would raise pension contributions 
An ample 60 per cent of Finns find employment-based immigration to be a good means to strengthen pension financing.Raising pension contributions is the second most popular solution. An ample one third is in favour of this alternative. Only one quarter of Finns are in favour of pension investors increasing risk taking to increase pension assets. This is revealed by the latest Pension Barometer conducted by the Finnish Centre for Pensions.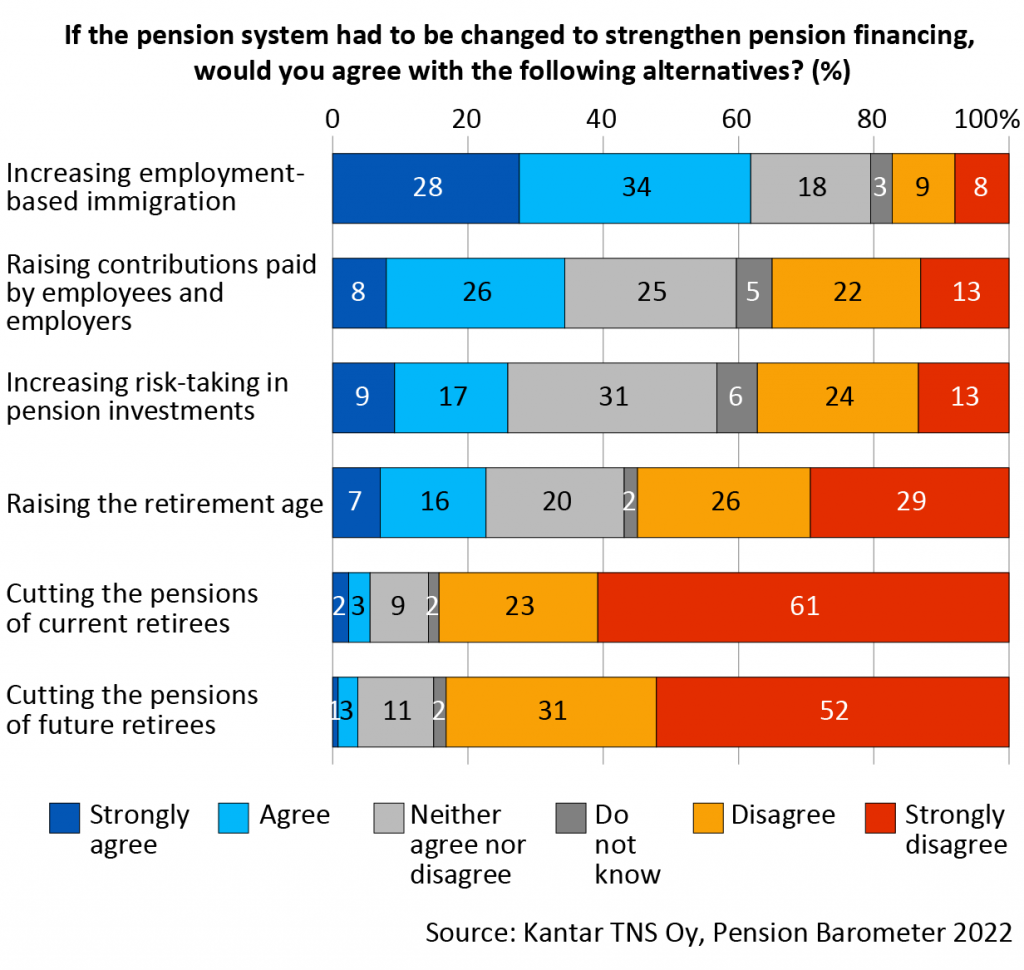 Read more:
---
Most pensioners perceive it somewhat easy to make ends meet
Two of three pension recipients find it somewhat easy to cover everyday expenses. However, according to a fresh study by the Finnish Centre for Pensions, one in ten reported great financial strain.
According to the study, a great majority of retirees in Finland assessed their level of financial satisfaction as average or high in 2020. The share of pensioners experiencing difficulties making ends meet has decreased.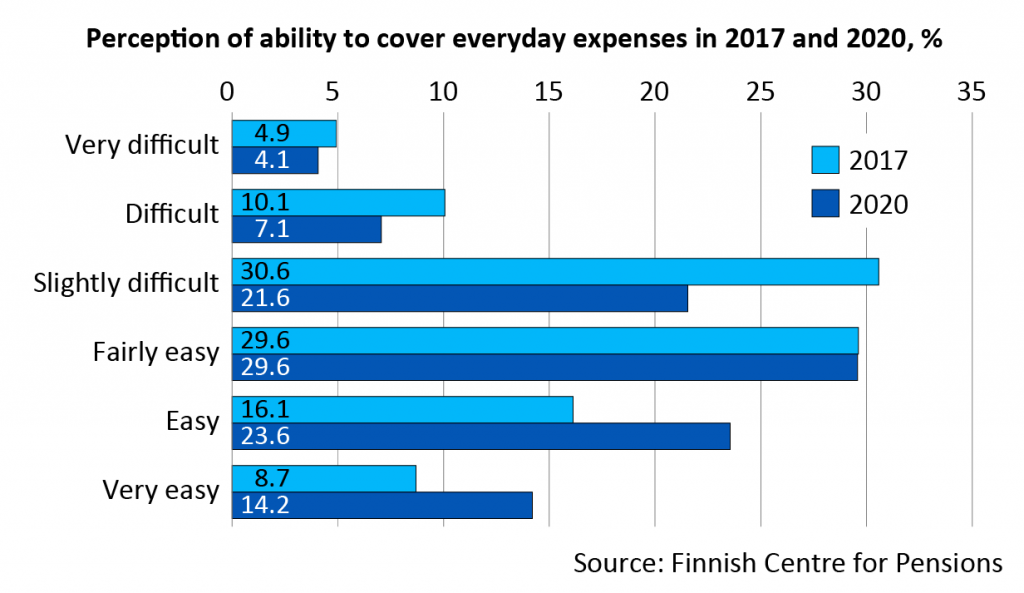 Read more:
---
Net income decreases at retirement by one fifth on average
On average, the net income of a person retiring from employment is 79 per cent of the net income during the active period. A new study by the Finnish Centre for Pensions shows that the change in net income at retirement has remained unchanged since the early 2000s. The pre-retirement labour market statuts significantly impacts the income change.
Median net income ratio of persons retiring from work and non-work and of all new retirees, %
| | | | |
| --- | --- | --- | --- |
| | Retiring from work | Retiring from non-work | All |
| 2002 | 79 | 118 | 89 |
| 2007 | 80 | 113 | 86 |
| 2012 | 78 | 125 | 83 |
| 2017 | 79 | 113 | 87 |
Read more:
---
Financial hardship in early life course affects economic well-being also in old age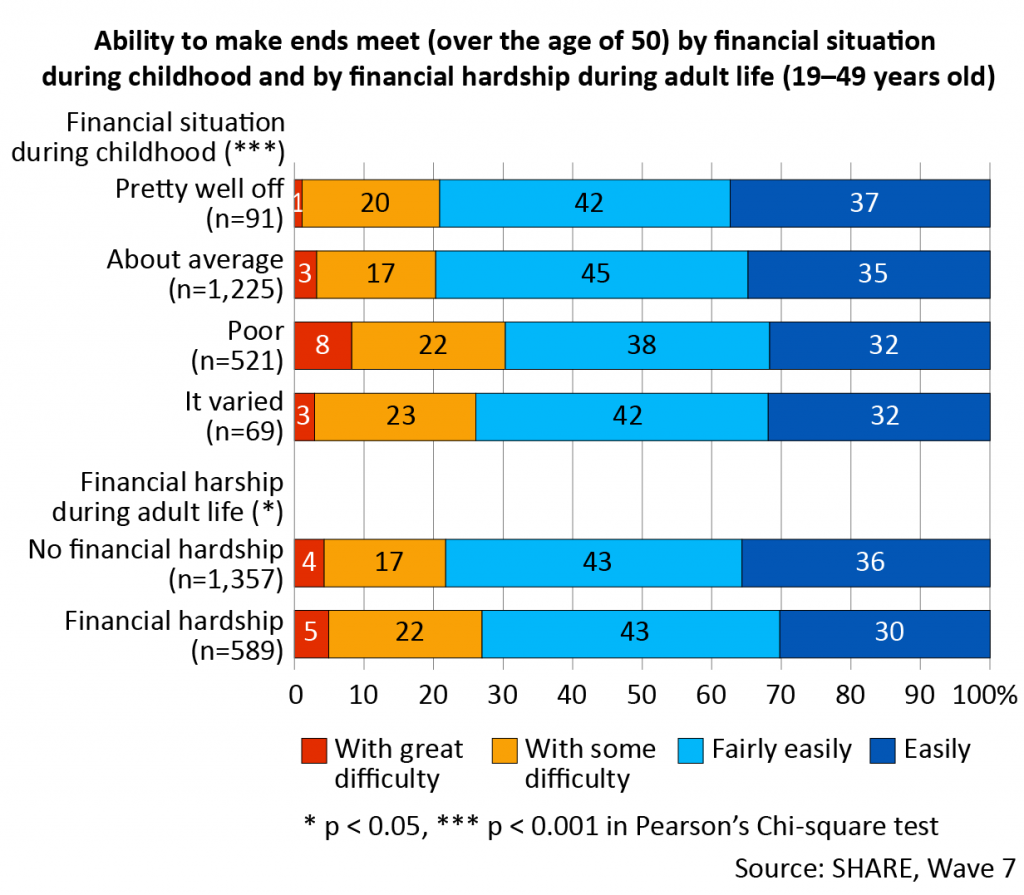 Older Finns face currently less difficulties in making ends meet but have experienced financial hardship somewhat more frequently than people aged 55 and more in European countries on average. Financial hardship during earlier stages of the life course was related to less economic well-being also in old age, as were poor health, low education and lacking homeownership. This study is based on SHARE wave 7 survey data, which was for the first time collected in Finland in 2017 and enables internationally comparative analyses of the situation of people aged 55 and more.
More on other sites:
---
Voluntary saving increasingly popular – every second Finn saves for retirement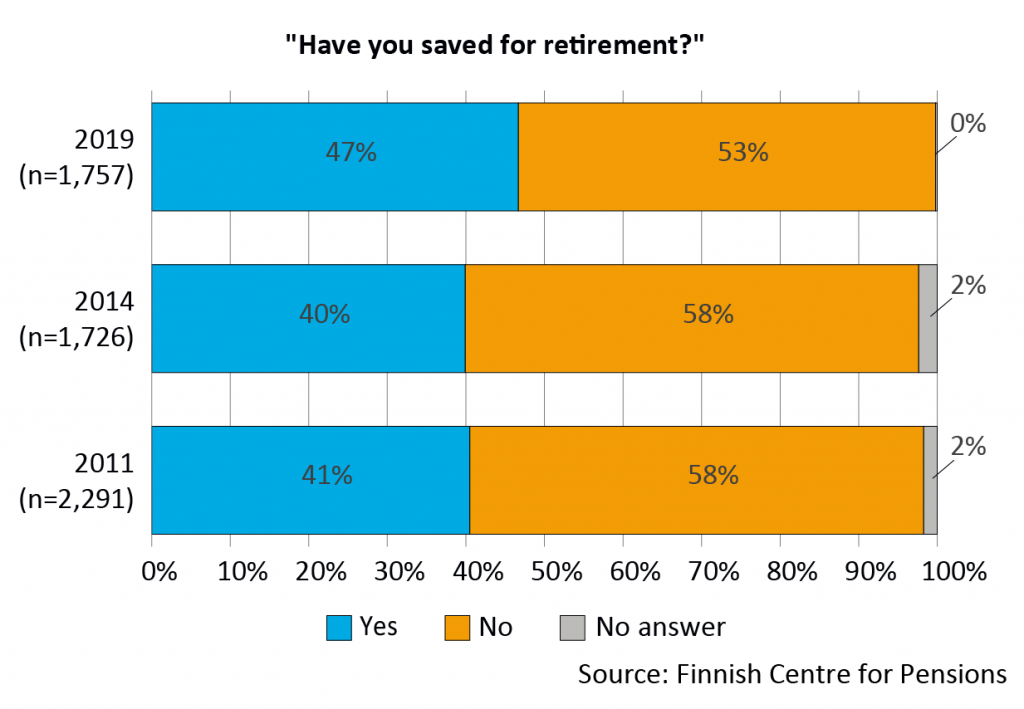 Saving for retirement is more prevalent among men and the 55–64-year-olds. Women and the unemployed state more often than others that they are financially unable to save. This is evident from a recent study by the Finnish Centre for Pensions.
Read more:
---
Study: Women worried about retirement income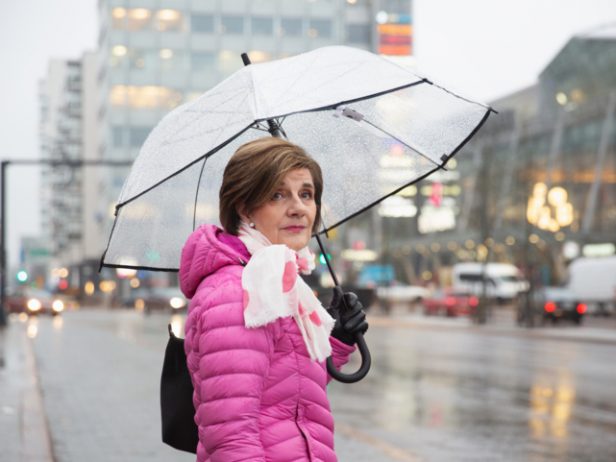 Finns are worried about the retirement income of low-income retirees in particular. Retirees' income gaps and the availability of reasonably-priced social and health services also cause concern. A recent study by the Finnish Centre for Pensions reveals that women are more worried about pension issues than men.
Read more:
---
Public defense of doctoral thesis: Pensioners' income in retirement remains reasonable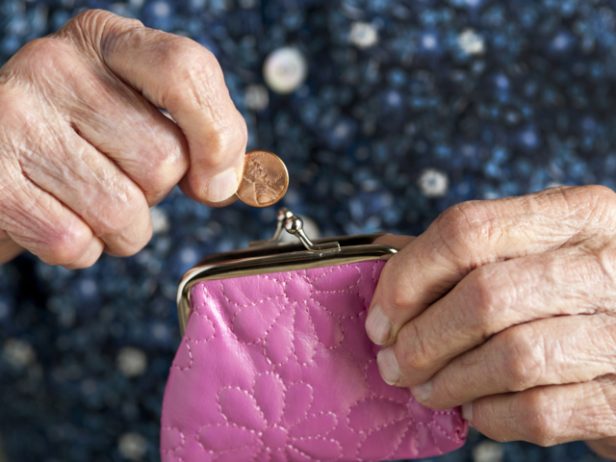 The Finnish pension policy objectives have been mainly successful. Pensioners' economic well-being does not drop dramatically at retirement, and the income of low-income people even improves slightly. After retirement, incomes remain fairly stable. However, for some retirees, poverty is long-lasting. This is evident in a doctoral dissertation by Juha Rantala for the Universit of Turku. The research is based on longitudinal register data.
Read more:
---
Majority of Finns unfamiliar with price tag of pensions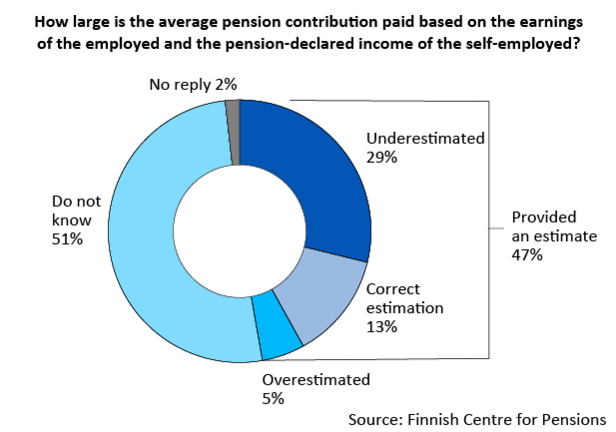 Only 13 per cent of the Finns know how much they pay in pension contributions. 29 per cent underestimate their pension contribution rate. These are results revealed in a new survey on pension knowledge conducted by the Finnish Centre for Pensions.
Read more:
---