Research on working life and its development
The length and timing of working life and the earnings received during that period in life affect the pension accumulation on an individual level. On a system level, working lives affect the financial sustainability of the pension system. The socio-political aims of extending working lives and raising the employment rate increase the need for research data on the subject. 
Under the research programme, we will do research on stages of and changes to working life that are significant from the point of view of pensions, and on the length of working life and income and related changes per population groups. A central subarea of our research is the labour market participation of the oldest working-age population. In addition, we focus on the early and mid-stages of working life and changes to and interruptions in working life. An increasing number of persons work in retirement. Under this research programme, we will therefore examine how common it is for people in Finland to work while drawing a pension and the underlying reasons for doing so. 
---
New studies
One in ten young men in danger of poor labour market attachment
Unemployment, disability and poor health weaken the transition to the labour market for many young people. Their earnings from work are low which often leads also to weaker pensions. This is revealed in a fresh doctoral dissertation by Janne Salonen.
Salonen's research data consists of register data of 30,000 men born in Finland in 1987. The data includes information on their earnings, education, health and family status. The data, from the registers of the Finnish Centre for Pensions, describe the life situation of the young men in 2005 and 2013. 
Read more:
---
Labour market position of 55–64-year-olds has changed in Europe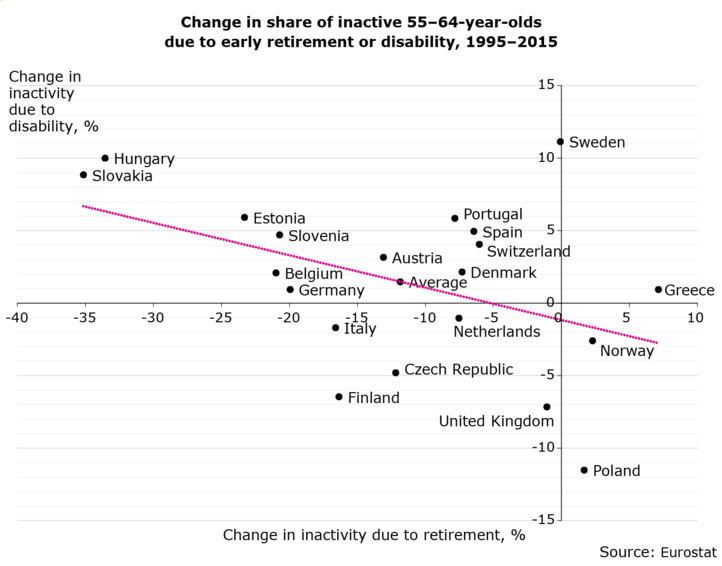 Nearly half of the 55–64-year-old Europeans were outside the labour market in the mid-1990s. Twenty years later, only about one third were in that position. In many countries, the share of early retirees has gone down, but the changes vary greatly from one country to another.
Read more: