Money Flows
In addition to pension contributions charged from employers, employees and the self-employed, earnings-related pensions are also financed through payments into the earnings-related pension scheme from unemployment insurance contributions, state shares and earnings-related pension assets as well as investment profits from said assets.
Employers disburse pension contributions based on the earnings of their employees to their own pension providers, who use them to finance earnings-related pensions currently on their responsibility and, on the other hand, prepare for the payment of future pensions by funding payments. The self-employed and farming entrepreneurs pay their own pension contributions directly to the pension provider.
The Employment Fund compensates the pension providers for costs arising from employees' unemployment and training allowances and pension accrual based on alternation leave. All pension providers participate in the costs arising from accrued pension shares from unsalaried periods of allowance. Additionally, the State reimburses the pension providers for benefits paid during periods of study and periods of child-care.
The earnings-related pension system's assets increased in 2020 with 6.6 billion euros. Total assets at year-end were 224.6 billion euros.
The increase in the assets are based on the investment profits. In 2020 income was 26.9 billion euros, costs 30.2 billion euros and the returns on the investment 10,0 billion euros.
The income of the private sector was 16.7 billion euros and costs 19.2 billion euros. The investment profits were 6.3 billion euros. The income of the public sector was 10.2 billion euros and costs 11.0 billion euros, and the investment profits 3.6 billion euros.
The pension assets include all assets meant to cover the earnings-related pension insurance obligations. Most of the pension assets are in the form of investment capital, which amounted to 222,9 billion euros at year-end.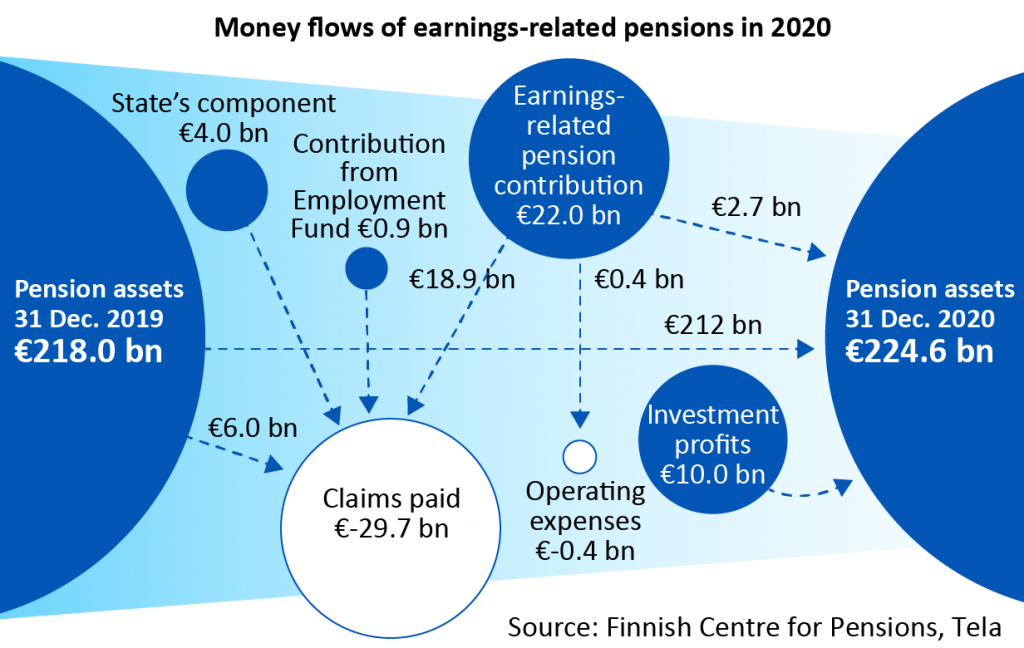 The visualisation of the earnings-related pension money flows illustrates the assets of the earnings-related pension system and their flows in given years.
The user can select the desired year and examine how the earnings-related assets flowed in that year. Click the link below to access the visualisation.
Link to access the visualisation
In addition to paying earnings-related pensions, pension contributions collected are funded and used to pay the maintenance and business costs of the pension providers. Such costs include, for example, costs arising from pension provider operations such as wages, commissions and additional personnel expenses. Costs arising from the investment operations of a pension provider are not included in the operating costs.
Earnings-related pension providers have mainly invested their pension assets in shares, bonds and real estate, both domestic and foreign. More detailed information on the investment operations of statutory pension assets is available on, for example, the website of the Finnish Pension Alliance TELA.
Read more
Further information