Investment Return on Pension Assets
Prefunding of assets has gained increasing importance in recent years as a source of pension financing. This trend is driven by population ageing and the associated growth of earnings-related pension expenditure.
International comparisons of pension asset investments are relatively scarce in Finland. The comparative data published by international organisations, for their part, are often of a rather general nature and do not necessarily take into account the distinctive features of earnings-related pension systems.
Under its current strategy (2017-2021), the Finnish Centre for Pensions is committed to increase and improve the quality of comparative data available on pension asset investment, particularly from the viewpoint of the Finnish earnings-related pension system. Comparisons of investment returns are thus an integral part of our efforts at the Finnish Centre for Pensions to produce data on investment operations and to shed light on their key role in pension financing.
Earnings-related pension investors divided into two groups
Our comparison of investment returns includes 24 pension sector providers from Northern Europe, North America and Asia. They are all major pension investors in their respective pension systems, both in terms of coverage and investment assets. Two new operators have been added to the comparison since 2018: Japan's and South Korea's state pension funds.
The pension investors are divided into two groups based on their risk-taking capacity: those not subject to solvency regulation and those subject to solvency regulation. The former include the Swedish buffer funds (AP1-AP6), the Canada Pension Plan Investment Board (CPPIB), the Norwegian Government Pension Fund Global (SPU), the Japanese Government Pension Investment Fund (GPIF) and the National Pension Service of Korea (NPS). There are three operators from Finland in this group: Keva, the State Pension Fund (VER) and the Church Pension Fund (KER).
The second group includes the California Public Employees' Retirement System (CalPERS), the Stichting Pensioenfonds (ABP) and the Pensioenfonds Zorg en Welzijn (PFZW) of the Netherlands, the Swedish occupational pension funds Alecta and AMF, the Danish occupational pension fund ATP, and the Finnish earnings-related pension insurance companies (Elo, Ilmarinen, Pensions-Alandia, Varma, Veritas) and the Seafarers' Pension Fund (MEK).
The comparison published here examines investment returns over a one-year, five-year and ten-year period from 2009 to 2019. The figures can be freely selected from the database for 2008 and onwards. In addition, our comparison includes data on pension asset amounts and investment allocations for the last year. The comparison is updated annually.
An infographics application is available that allows for more detailed comparisons of investment returns. The data can be downloaded as Excel tables.
Earnings-related pension investors' real returns
The data on return rates are collected from public sources, primarily financial statements and annual reports. For Canada and Japan, annual return rates are calculated based on quarterly statistics. The figures indicate net returns after expenses and are presented in the national currency. Long-term average returns are calculated as a geometric average of annual rates of return. Calculations of real return use the average value of OECD Stat's Consumer Price Index (CPI) for the investment year. Nominal returns can also be extracted from the database.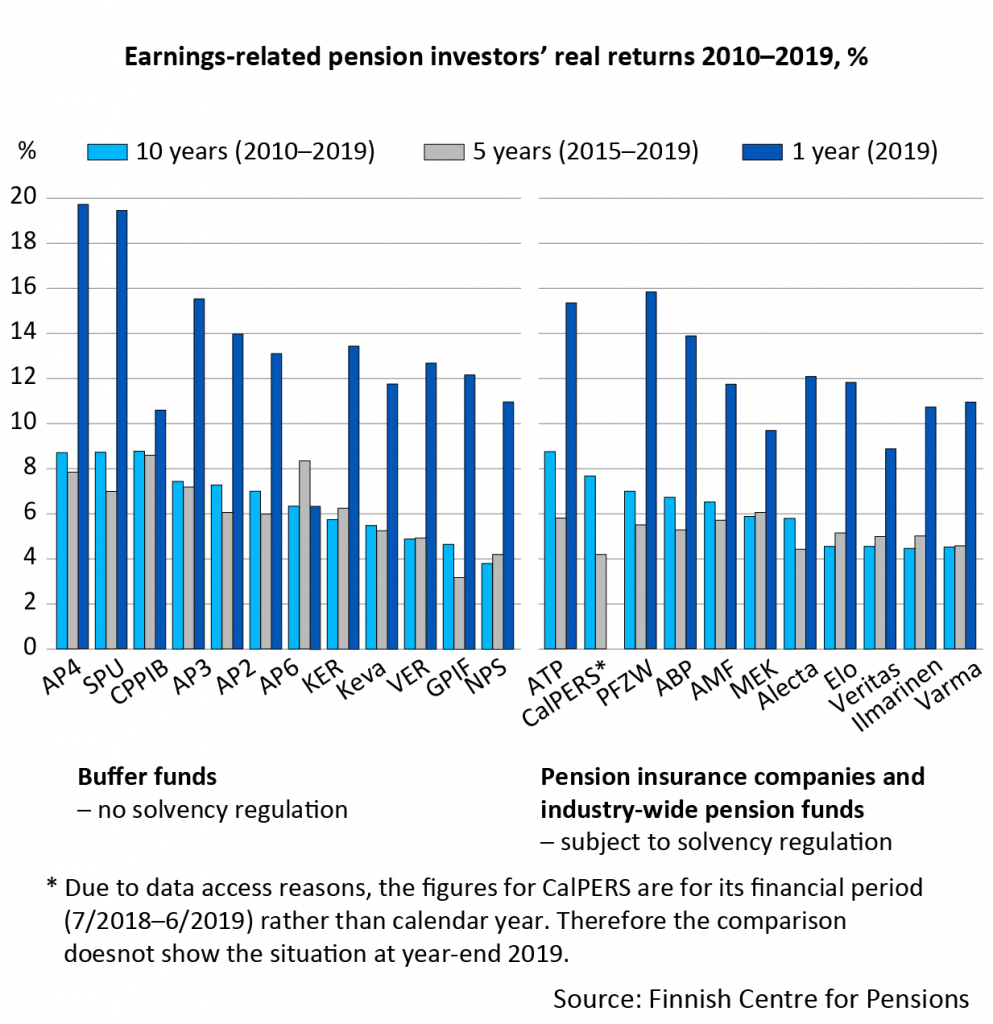 Overall, based on the performance of both Finnish earnings-related pension providers and the major foreign pension providers included in the comparison, investment returns in 2019 were very strong.
The highest returns were recorded by the Swedish buffer fund AP4 (19.6%) and the Norwegian SPU (19.4%). The average rate of return for Finnish earnings-related pension providers in 2019 was around 11 per cent.
Swedish, Norwegian and Canadian buffer funds and Danish ATP show 10-year returns of more than 8 per cent
Pension investment has a long-term horizon and therefore it makes sense to monitor return rates over a longer period than one year. Indeed, our comparison also uses ten-year and five-year moving averages.
Although 2019 was an excellent investment year, most pension providers in the comparison saw their 10-year returns decline. This is because the return rate for the previous peak year in 2009 following the financial crisis drops out from the comparison.
Sweden's largest buffer fund AP4, the Norwegian buffer fund SPU, the Canadian buffer fund CPPIB and the Danish occupational pension fund ATP recorded the highest real returns (average return rate 8.7%) during the ten-year comparison period.
Finnish earnings-related pension providers recorded average real annual returns of 5 per cent over the 10-year review period. In Finland, buffer funds achieved returns that were about half a percentage point higher than for pension providers subject to solvency regulation during the recent 10 years.
Earnings-related pension providers' annual real returns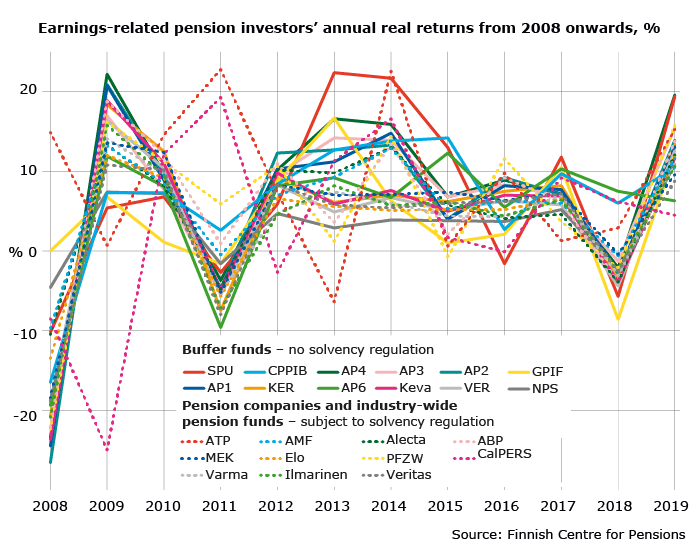 The above graph shows marked annual fluctuations in earnings-related pension investors' real returns from 2008 onwards. The 2008 financial crisis and the subsequent quick recovery are clearly visible in the graph. This was followed by the euro crisis in 2011. Return rates are then relatively stable from 2011 through to 2018 when many pension providers see them fall into the red – before bouncing back to almost record levels in 2019.
Allocation of investments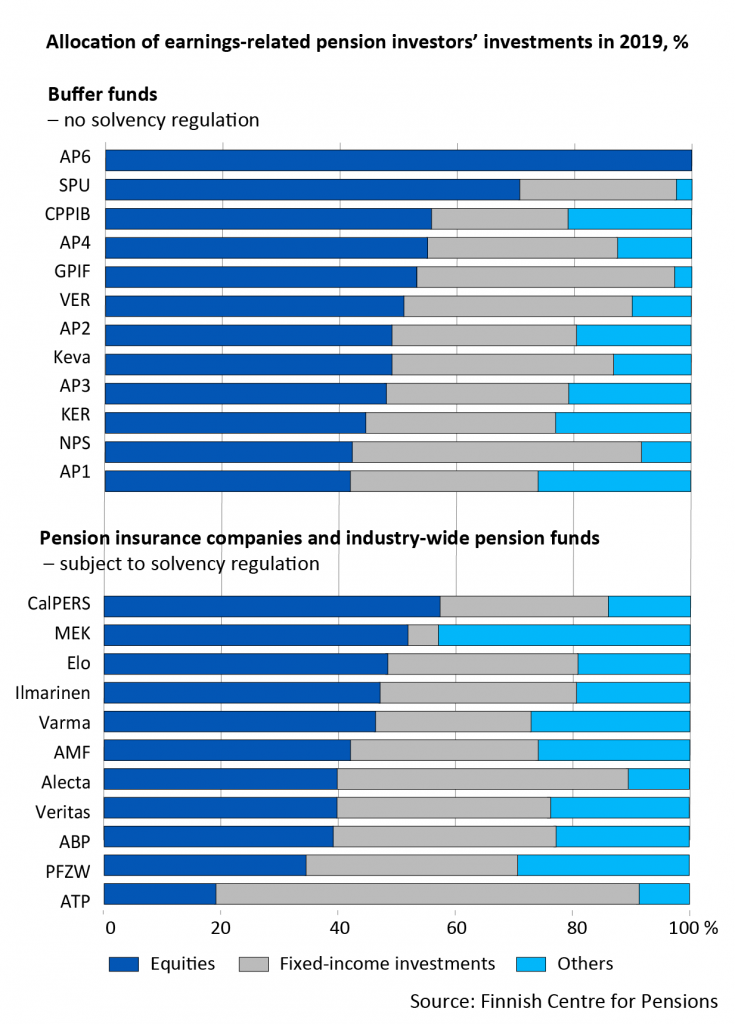 Pension insurers' investment assets are divided into three categories: equities, investments in fixed-income securities and other investment instruments. This is a rather crude classification, but nonetheless allows for better comparability than the increasingly multidimensional classifications adopted by many pension insurers themselves.
In 2019, the weight of equities in investment allocations ranges from 100 per cent (AP6) to 20 per cent (ATP). Buffer funds have a higher-than-average equity weight (55%) than pension providers subject to solvency regulation (42%). The equity category also includes unlisted shares.
The share of investments in fixed-income securities is highest for ATP (72%) and lowest for MEK (5%). For pension providers subject to solvency regulation, the average share of investments in fixed-income securities was 36 per cent, and for buffer funds 32 per cent. Investments in fixed-income securities include both government and corporate bonds and other fixed-income investments.
Other significant investment types include investments in real estate, raw materials, infrastructure and hedge funds.
Equity weight not in direct correlation to risk
It is useful to note that our examination of investment allocations does not take account of differences in risks between different investment types. As a rule, equity investments are riskier than investments in interest-bearing papers. However, equity investments vary depending on the shares of listed and unlisted equities. Investments in fixed-income securities can also consist of high-risk corporate bonds or state bonds with poor credit ratings. Duration values describing the sensitivity of fixed-income securities to changes in interest rates are not available for all pension insurers, and therefore the related risks of investments in interest-bearing instruments are not reported.
Earnings-related pension providers' investment assets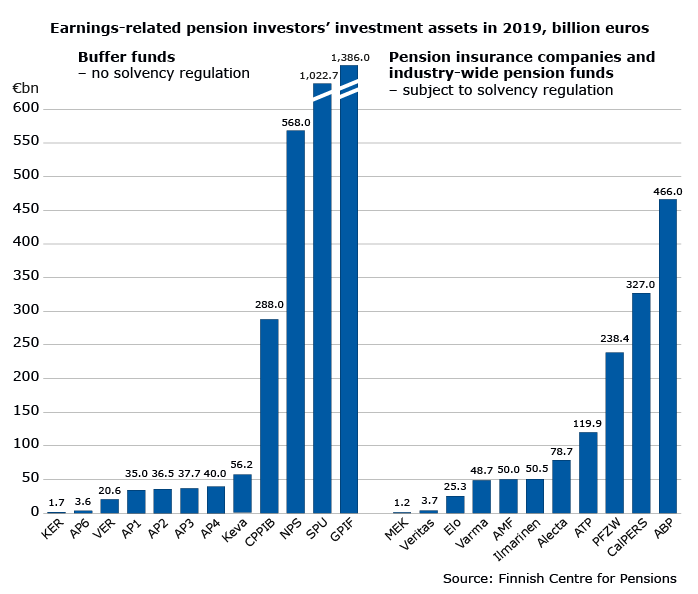 The differences in pension providers' asset levels are explained, among other things, by differences in the systems' funding techniques and in the number of insured persons and pension recipients. In Finland, for example, the earnings-related pension system is partly funded and implementation is spread among several operators. In Sweden, the statutory pension system is also partly funded and the buffer fund is divided among several providers (AP1-AP6). Individual operators therefore are not very large in size. Occupational pensions are fully funded, but they have only a supplementary role to statutory earnings-related pensions.
In the Netherlands, occupational pensions are also decentralised, but they are fully funded and in practice offer a full earnings-related pension. This is reflected in the country's substantial volume of pension assets. Although there are many pension providers, the assets are concentrated in the major ones. The two biggest operators are ABP and PFZW.
In Japan (GPIF), South Korea (NPS), Norway (SPU) and Canada (CPPIB), buffer funds are centrally responsible for the funding of the statutory pension system. The Japanese fund is the largest in the world, and it is also by far the largest pension provider in our comparison.
Pension assets are converted into euros using the exchange rate for the last day of the financial period.
Earnings-related pension investors operate in different environments
Boundary conditions for comparison of investment returns
Starting year and length of comparison period affect the results

Substantial annual fluctuation in returns
Long-term average returns depend on selected period

Currency region and exchange rate fluctuations cause differences in results

Returns expressed in national currency (that is, the same currency in which the pensions are paid)
Real returns provide better comparability as effect of inflation is removed

Investment operations take place within the solvency framework and other regulations limiting investment risks
All of the above affect the final results of the comparison
Our comparison shows the history of realised returns and all contributing factors for the pension providers concerned. The aim of the comparison is to build a stronger foundation of knowledge about pension investment by taking a wider view and looking beyond Finland. However, the comparison does not allow direct conclusions to be drawn about the success of investments made. The final result will be affected, among other things, by the pension provider's currency region and exchange rate and the investment regulations in place. It should be noted that the comparison also includes major players already established in the marketplace, and therefore among their ranks there are likely to be some highly successful pension investors.
In our comparison returns are reported in the national currency, since the pensions too are paid in the national currency. Changes in a national currency relative to the currency of another country affect the final result depending on the share of investments abroad. In the case of SPU (Norway), for example, which invests exclusively in foreign countries, fluctuations in the exchange rate of the Norwegian krone have a significant effect on investment returns.
Investment returns are furthermore affected by the areas in which the earnings-related pension investors operate. Investors will typically be inclined to focus on their domestic market. SPU forms an exception in this respect. In the euro area, including Finland, the performance of the stock market during the review period has been much weaker than in the United States. Interest rates have also been higher in the United States than in the euro area.
Regulations affecting investment decisions are also crucial in this context. We have divided pension investors into two categories according to whether or not they are subject to solvency regulation. In Finland, solvency regulations apply only to private sector earnings-related pension providers, that is, earnings-related pension insurance companies, company pension funds and industry-wide pension funds (for more details, see TELA). In other countries, occupational pension insurers follow similar national or pan-European (Solvency II) solvency regulations. The company pension funds and industry-wide pension funds included in this comparison adhere to their own national regulatory frameworks (see more detailed data below).
Solvency regulation, for its part, will affect the possibilities and willingness of pension insurers to take investment risks. The purpose of solvency regulation is to protect pension assets and benefits. Solvency is measured by the ratio of assets to liabilities. When solvency is sound, that is, when assets relative to liabilities are high, insurers can strive for higher returns through riskier investments. Correspondingly, when solvency is weaker, solvency regulation will steer investments from shares to interest-bearing papers and other less risky investment instruments.

Pension insurers not subject to solvency regulation, in our case the buffer funds that are not burdened by pension liabilities, also have their own rules and limitations regarding investment allocation. These vary both between countries and individual pension operators. For example, there may be restrictions on the share of equities or real estate investments in the portfolio.
Read more