Pension Expenditure and Projections
EU's pension expenditure projection up to 2070
The Ageing Working Group (AWG) of the Economic Policy Committee (EPC) regularly publishes studies on the economic impact of the ageing society on EU Member States. The most recent projections were published in 2018.
The 2018 Ageing Report is a study of the economic impacts due to ageing on pensions, healthcare, long-term care, education and unemployment provision in 27 EU Member States. Of non-EU Member States, Norway has been included in the comparative projections. The projections of the report span to the year 2070. The baseline year is 2016.
Statutory pension expenditure in the EU27 countries 11.9 per cent of GDP
The statutory pension expenditure of the EU27 countries accounts for 11.9 per cent of GDP on average. The expenditure is expected to be a little lower (11.4 per cent) in 2070. Extensive pension reforms, with the aim to cut pension expenditure, have been carried out in various European countries. The change is significant compared to, for example, the 2012 report, in which the expenditure was expected to grow to about 13 per cent by 2060.
According to calculations in the AWG report, the share of pension expenditure in Finland in relation to the country's GDP was 13.4 per cent in 2016 (12.9 per cent in 2013). The expenditure is expected to be 13.9 in 2070.
According to the AWG report, pension expenditure within the EU will increase the most in Luxembourg, Slovenia, Belgium and Malta.
Pension expenditure in Luxembourg, Slovenia and Belgium will be the highest of all in 2070, according to calculations: almost 18 per cent of GDP in Luxembourg and 15 per cent in Slovenia and Belgium.
During the next fifty years, public pension expenditure will decrease the most in Greece (-6.7 percentage points), Croatia (-3.9 p.p.), France (-3.2 p.p.) and Latvia (-3.1 p.p).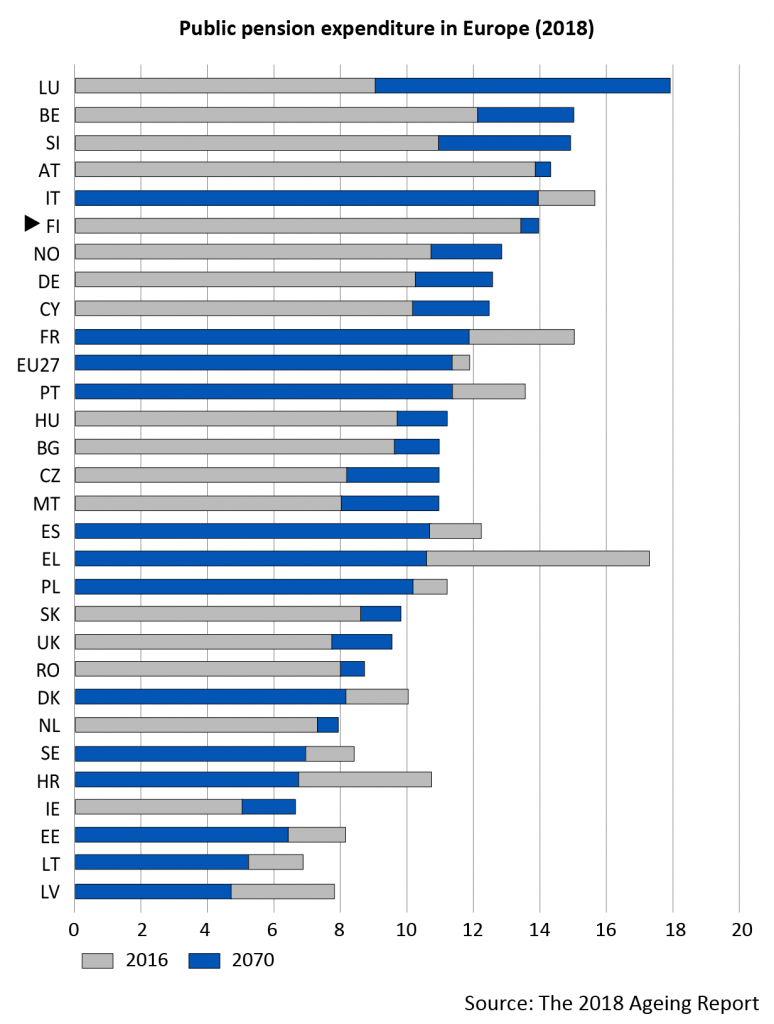 Read more
More on other sites