Earnings-related pension assets 243 billion euros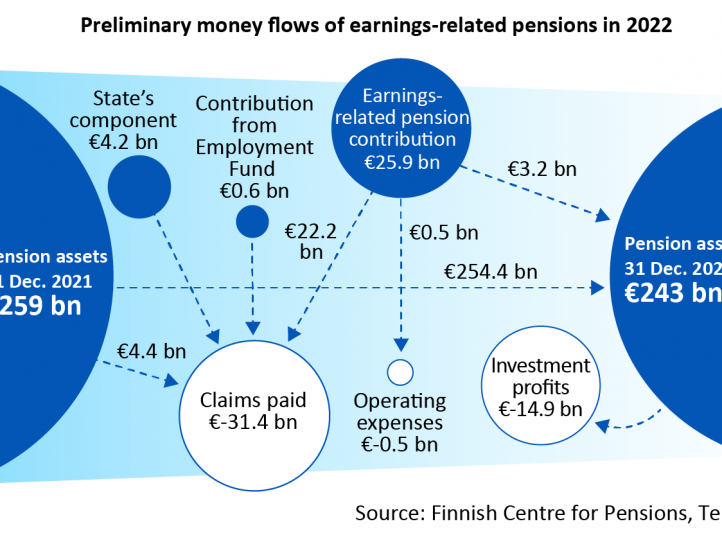 The assets of the Finnish earnings-related pension system shrunk by 16 billion euros in 2022. Investment losses counted for the main part of the loss. Insurance contribution income increased by nearly two billion euros.
The Finnish earnings-related pension assets were 243 billion euros at year-end 2022. The assets shrunk by 16 billion euros, of which investment losses accounted for 14.9 billion euros.
Private sector pension assets were 154 billion euros and public sector pension assets 89 billion euros at year-end 2022.
Pension assets include all assets meant to cover the earnings-related pension insurance obligations. Investment capital forms the main part of pension assets. Outstanding insurance contributions account for around three billion euros.
Earnings-related contribution income up by nearly two billion euros
The earnings-related pension system showed an income of 30.7 billion euros in 2022, of which 25.9 billion euros in the form of insurance contributions. Pension contributions grew by 1.8 billion euros compared to 2022.
"The increase in insurance contributions is due to both a rising wage sum and the repayment of the temporary reduction of contributions under the Employees Pensions Act due to the corona pandemic. The repayment has been scheduled for 2022–2025", says Mathematician Henna Iire (Finnish Centre for Pensions).
The system accrued 31.9 billion euros in pension expenditure in 2022, an increase of one billion euros. The increase was due to a growth in pensions in payment.
"This year the expenditure is expected to grow briskly due to the index increases at the beginning of the year. The inflation that is underlying the index development will soon be reflected in the pension expenditure", Iire states.
The system's income consists of pension contributions, the Employment Fund's contribution and State contributions. The expenditure consists of pensions, total operating expenses and taxes.
The figures are preliminary at this point. The exact figures will be presented in June when a wider range of statistics on the money flow are available.
Read more