Upcoming research webinar: Career destabilization – Myths, evidence and consequences for pension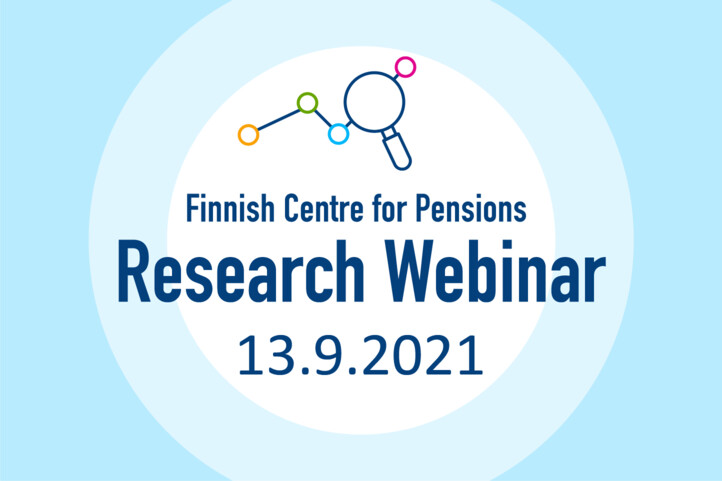 At our next research webinar at the Finnish Centre for Pensions, we will discuss how working life appears in recent research. Is the future and development of working life as unstable as claimed? Join our research webinar on Monday 13 September.
Fragmented and unstable working life continues to be the topic of public debate in Finland and elsewhere in the world. Globalisation, digitalisation, economic crises and labour market deregulation are believed to shake up the traditional model of working lives. Should we worry about working lives?
In light of research, unstable working lives appear to be a myth. In our upcoming webinar, researchers present fresh research results on the stability of working lives. At the same time, we examine how working life stability affects pensions. We also look at whether social security and the pension systems should balance working life instability – and if yes, how?
The webinar is in English.
Programme Monday 13 September 2021 at 2:00-3:15 p.m. (local time; 1:00-2:15 CEST) (Teams)
Satu Ojala, University Lecturer, Tampere University:
Employment careers in Finland: Stable for most, weaker among women and low educated.
Zachary Van Winkle, Assistant Professor, Sciences Po, Paris:
The complexity of employment life courses across 20th century Europe
Aart-Jan Riekhoff, Senior Researcher, Finnish Centre for Pensions:
Is career instability good or bad for the development of your earnings? A Finnish cross-cohort analysis.
Commentator:
Pasi Moisio, Research Professor, Finnish Institute for Health and Welfare. Chair of Social Security Committee
Register for the webinar on Webropol, participate via Teams
Register for the webinar on Webropol
The research webinar is arranged using the Microsoft Teams app. You will receive a Teams invitation to your e-mail closer to the event.
New webinar series for pension researchers and decision-makers
The Finnish Centre for Pensions (ETK) launched a research webinar series in the spring of 2020. The webinar is directed at pension researchers, experts and decision-makers. The webinars present recent research on the challenges that pension systems face and matters relating to the development of pensions.
Welcome to our open access webinars!