Pension Barometer: Two out of three Finns trust the pension system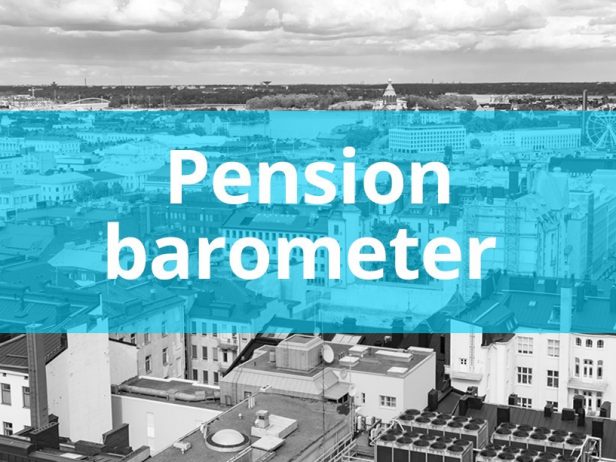 The trust in the pension system grew last year. If the financial sustainability of the pension system had to be improved, the most accepted measure would be to raise the pension contribution. The alternative of cutting pensions in payment or future pensions gained no support.
Nearly two out of three (67%) Finns trust the pension system according to the Pension Barometer conducted by the Finnish Centre for Pensions. Each year, the questionnaire survey measures how Finns relate to pensions and pension-related issues.
The trust in the pension system grew by 7 percentage points year-on-year. Retirees (87%) and the 50-64-year-olds (74%), who are approaching retirement age, trust the pension system the most. More than half of the young and middle-aged find the pension system fully or partially trustworthy. A fifth of the Finns have little or no trust in the pension system.
Overall, the views on the pension system are more positive this year than in the previous year. Two out of three believe that the pensions they have earned are secure and that they will be paid out in due time. Six out of ten believe that the pension guarantees a reasonable income in old age.
"The increased trust is at least partly also related to the favourable economic and employment development. These factors have been observed to be linked to trust," says Susan Kuivalainen, Head of Research at the Finnish Centre for Pensions.
No to cuts in pensions
The Pension Barometer also asked citizens of their view on measures to be taken if the sustainability of the pension system needs to be improved. The given alternatives were raising pension contributions, raising the retirement age and cutting pensions.
None of the alternatives were popular. All age groups and socioeconomic classes opposed cuts to current and future pensions.
Raising the pension contributions was the most popular (42%) alternative. Every third respondent (32%) favoured raising the retirement age. Only a few would accept cuts in pensions in payment (7%) and in future pensions (11%).
Contribution burden of the young too heavy
This year, the barometer also included questions about intergenerational fairness.
Half of the Finns find that the younger generations have to pick up an unreasonably big share of the pension tab. Every fourth disagrees at least to some degree.
"The middle-aged are worried about the contribution burden of the young. About one fifth agree completely with the statement. Retirees disagree the most. One third of them do not find the contribution burden to be too high," says Sanna Tenhunen (Finnish Centre for Pensions).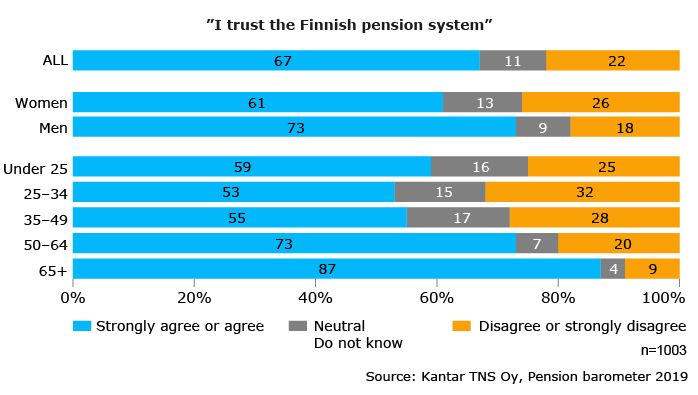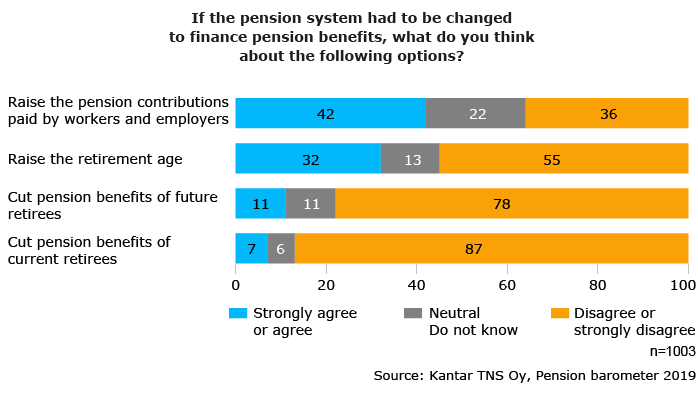 The Pension Barometer of the Finnish Centre for Pensions was conducted by Kantar TNS Oy. The interviews were conducted by phone in May 2019 with 1,003 respondents (Finnish citizens) aged between 18 and 79 years. The margin of error is circa 3 percentage points.
More information
Susan Kuivalainen, Head of Research, phone +358 29 411 2184, susan.kuivalainen(at)etk.fi
Sanna Tenhunen, Economist, phone +358 29 411 2492, sanna.tenhunen(at)etk.fi