Pension assets show strong growth despite corona crisis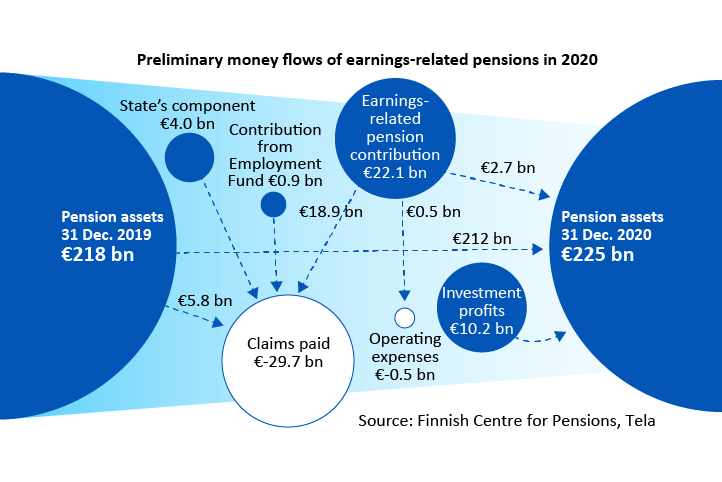 The Finnish earnings-related pension system survived the corona year 2020 unscathed. Pension assets increased by seven billion euros, reaching 225 billion euros at year's end. This growth was mainly driven by robust return on investments later in the year.
In 2020, earnings-related pension expenditure again exceeded revenue. Revenue stood at 27.0 billion euros, while expenditure reached 30.2 billion euros. Return on investment showed a value of 10.2 billion euros, despite the corona crisis.
As a result, earnings-related pension assets increased by seven billion euros and amounted to 225 billion euros at the end of the year. The value of investment assets accounted for 221 billion euros.
Pension fund reserves provided sufficient buffer
The stock market's historical nosedive in the corona spring wiped tens of billions from the value of pension assets. However, the investment market recovered rapidly on the back of massive central bank stimulus and returned to positive growth towards the end of the year.
Early fears of solvency crises spinning out of control never materialised, and in contrast to the 2008 financial crisis there was no need for emergency legislation to protect pension assets.
The Finnish economy has so far weathered the corona storm reasonably well. Payments of pensionable wages fell by no more than 0.4 per cent from 2019. The wage bill for private sector employees decreased by 1.3 per cent. Contribution revenue in 2020 fell as a result of the move by central labour market organisations to lower earnings-related pension contributions from May through to the end of the year. In this situation the cyclical buffer provided by pension fund reserves was harnessed for economic stimulus.
"In the early stages of the crisis there was much uncertainty and a real sense of alarm. Fortunately, the situation calmed down by the summer and the figures for the turn of the year were a positive surprise," says Jaakko Aho, Actuarial Manager at the Finnish Centre for Pensions.
Pension system revenues for the private sector totalled 16.8 billion euros and expenditures 19.3 billion euros. Return on investment showed a profit of 6.3 billion euros. The corresponding figures for the public sector were 10.2 billion euros in revenues and 10.9 billion euros in expenditures, with a profit of 3.9 billion euros on investment.
Pension system revenues include pension insurance contributions, the Employment Fund's share of earnings-related pension expenditures and state shares. Expenditures include pensions paid out, overall operating costs and taxes.
Read more:
Cash flows of the earnings-related pension system
---
Pension assets and investment assets
Earnings-related pension assets are sometimes referred to as 'pension assets' and sometimes as 'investment assets'. The difference stems from the fact that other receivables, debts and tangible assets are included in pension assets and reported in the balance sheet, while these are excluded from investment assets.