Research webinar: Raising retirement ages – How pension reforms have affected employment and retirement in Finland and Estonia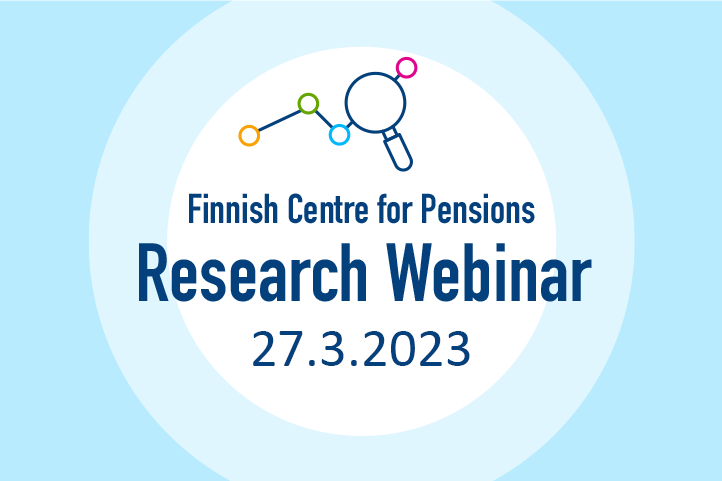 In recent years, retirement ages have been raised in Finland and Estonia and many other countries. However, in France, the attempts to raise retirement ages have met opposition. Raising retirement ages and the resulting effects are discussed at the webinar of the Finnish Centre for Pensions on Monday 27 March 2023 at 14.30–16.00 (EEST)/ 13.30–15.00 (CEST). The webinar is in English.
Recent research by the Finnish Centre for Pensions shows that the 2005 and 2017 pension reforms in Finland have affected the extension of working lives and postponed retirement in different ways. How do pension reforms affect the employment and retirement of older workers? What are the differences between the countries under review? What are the arguments for and against raising the retirement age further?
Researchers from Finland, Estonia and France compare and discuss the effects of the pension reforms that aim at extending working lives.
Webinar programme
Monday 27 March 2023 at 14.30–16.00 (EEST)/ 13.30–15.00 (CEST), Teams (in English)
Presentations
What happened to the retirement age and working lives after the 2005 and 2017 pension reforms in Finland?
Satu Nivalainen, Finnish Centre for Pensions
Did the 2017 pension reform affect the transition to disability pension?
Mikko Laaksonen, Finnish Centre for Pensions
What happened in Estonia to retirement and employment after raising the retirement age?
Lauri Leppik, University of Tallinn
Comments
Bruno Palier, Sciences Po, France
Moderator
Kati Kuitto, Finnish Centre for Pensions
Registration
Register for the webinar in Webropol
After registration, you will receive a confirmation and a calendar invitation with the webinar's Teams link to your e-mail.
Welcome!
Speakers
Satu Nivalainen is an economist at the Finnish Centre for Pensions. She has researched extensively working lives and old-age retirement in Finland. She is currently investigating the effects of the 2017 pension reform on employment, unemployment and disability retirement. She also studies factors affecting the timing of old-age retirement.
Mikko Laaksonen is a senior researcher at the Finnish Centre for Pensions. His research focuses on retirement on a disability pension. Currently he is leading projects regarding changes in work disability in the 2000s and changes in the structure of the disability pensioner population and the implication for disability pensioners' average income development.
Lauri Leppik is professor of Social and Population Policy at the Estonian Institute of Population Studies at Tallinn University. He studies ageing and social policy and is currently involved in the SHARE (Survey on Health, Ageing and Retirement in Europe) project. He has also recently conducted a comparative in-depth analysis of the pension systems in eight European countries for the Ministries of Social Affairs and Finance of Estonia.
Bruno Palier is CNRS Research Director at Sciences Po, Centre for European Studies and Comparative Politics. He studies welfare reforms and public policy in Europe and is currently conducting several comparative projects on social investment policies, social dualization in Europe and politics of welfare state reforms in Continental Europe. Recently, he has commented on the contested French pension reform attempts to raise the retirement age.