Average monthly pension 1,680 euros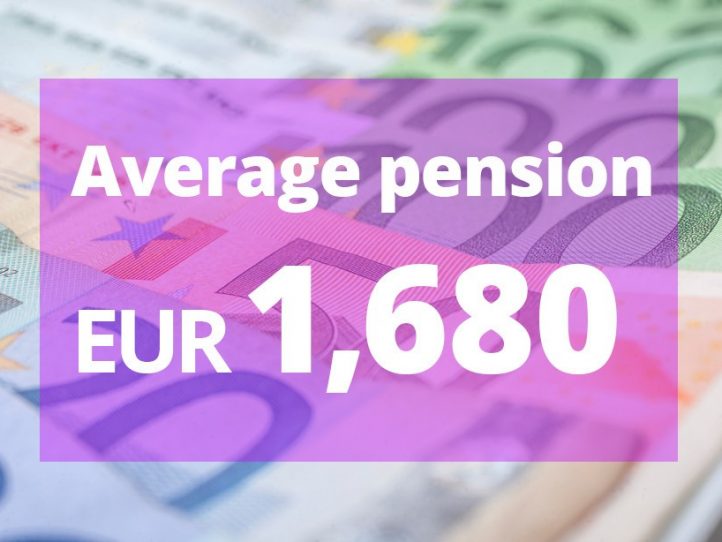 The monthly pension of more than half of the pensioners is below 1,500 euros. Seven per cent get a monthly pension that is higher than 3,000 euros. One in three over-16-year-old in Finland is a pensioner.

The average monthly pension in 2018 in Finland was 1,680 euros, which is 20 euros more than in 2017. The median pension was 1,459 euros per month, or 20 euros more than in 2017.
Nearly 40 per cent of the pensioners got a pension that was less than 1,250 euros per month. Two out of three of them were women. Seven per cent of the pensioners got a high monthly pension (more than €3,000). A clear majority of them were men.
"Men continue to dominate the statistics of recipients of high pensions. Of the decile getting the highest pensions, women count for slightly less than one third. The situation has been the same for the last ten years", says Tiina Palotie-Heino, statistics manager at the Finnish Centre for Pensions.
In 2018, men got an average monthly pension of 1,898 euros and women 1,499 euros (20% less).
The data is per year-end 2018 and based on joint statistics of the Finnish Centre for Pensions and Kela.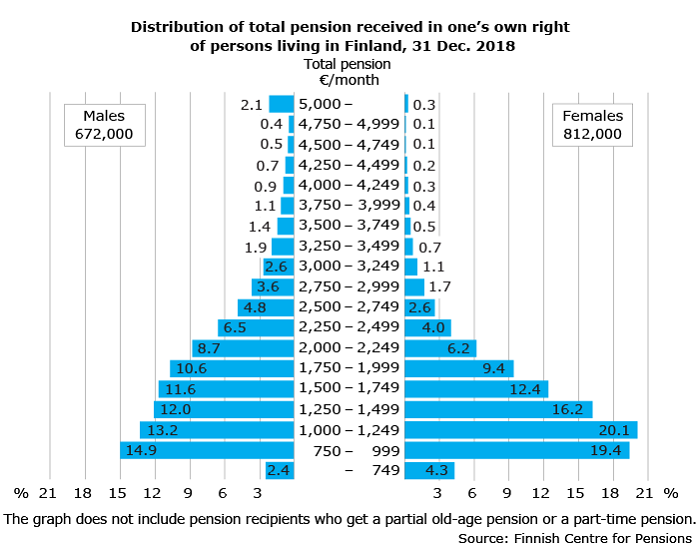 Roughly 200,000 persons, or six per cent of the working-age population, received a disability pension in 2018. That was slightly fewer than in 2017.
The pension expenditure in Finland in 2018 was 31 billion euros, of which 28 billion euros were earnings-related pensions and 2.4 billion Kela pensions.
The pension income are in gross amounts.
---
What does the average pension depict?
The average monthly pension of people who live in Finland and who get an earnings-related or a national pension.
The review excludes persons who get a part-time pension, a partial old-age pension or only a survivors' pension.
---
Statistics on Pensioners in Finland (etk.fi/en)
Total expenditure on pensions (etk.fi/en)
Updated pension calculator (includes development of earnings) (tyoelake.fi)
More information:
Tiina Palotie-Heino, Statistics Manager, phone +358 29 411 2147, tiina.palotie-heino(at)etk.fi
Heidi Nyman, Statistics Planner, phone  +358 29 411 2139, heidi.nyman(at)etk.fi