Extending working lives and healthy ageing – What role for flexible retirement?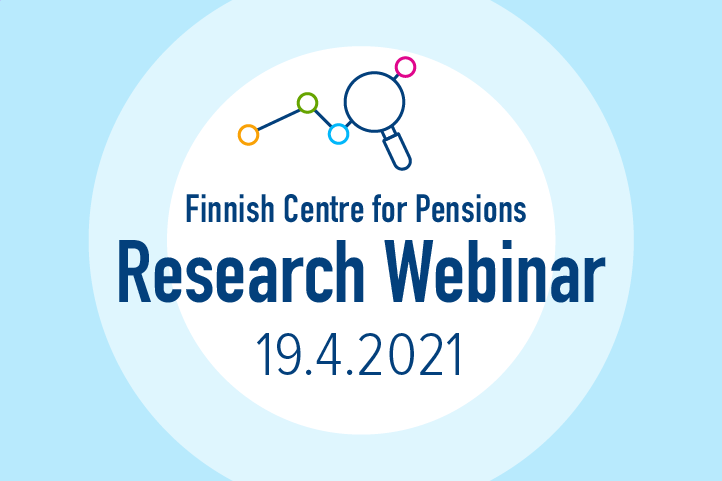 Different forms of flexible retirement are gaining popularity around the world. One potential group of beneficiaries are older workers with difficulties in reaching their full retirement age due to poor health. The upcoming ETK research webinar on Monday 19 April presents new research on the relation between health, ageing and flexible retirement in Finland and abroad.
Finland introduced a new partial old-age pension in 2017. The benefit makes it possible to draw part of one's earned old-age pension two years before reaching one's full retirement age. Similar schemes that allow for an early partial withdrawal of a pension or working part-time while receiving a pension are also adopted in an increasing number of other countries. The aim of these schemes is to extend the working lives of those with difficulties to remain fully engaged in work while the official retirement ages rise. In our upcoming ETK research webinar, we will explore how those with health problems or an expected low longevity utilise flexible retirement in Finland, Denmark, Sweden, Chile and the United States.    
The webinar (in English) will take place in Teams on Monday 19 April at 1.00-2:30 p.m. (CEST).  
Speakers 
Satu Nivalainen (Finnish Centre for Pensions): 
Does a shorter expected longevity result in an early claiming of the partial old-age pension?
Isabel Baumann (Zürich University of Applied Sciences, Switzerland): 
Studying flexible retirement and health: challenges and insights from an international comparison
Commentator 
Hans Dubois (Eurofound, Ireland) 
Register for the webinar in Webropol
You will receive a Teams invitation to your e-mail closer to the webinar.
---
ETK research webinars 
With this upcoming seminar in April, the Finnish Centre for Pensions (ETK) launches a new webinar series that focuses on research-based knowledge on topics that are relevant for developing the pension system at home and abroad. Not only will we present and discuss most recent research evidence but also prompt mutual learning from pension reforms and how they provide solutions for challenges that pension systems/pensions face in Finland and abroad.    
The webinar series will bring together researchers, policy makers and professionals from pension-related institutions to debate current issues of pensions and pension system development. The open access and free webinars allow the audience to participate in the discussion. We look forward to expanding pension research and expertise networks.
Welcome to our webinars!