Average monthly pension in Finland in 2022: 1,845 euros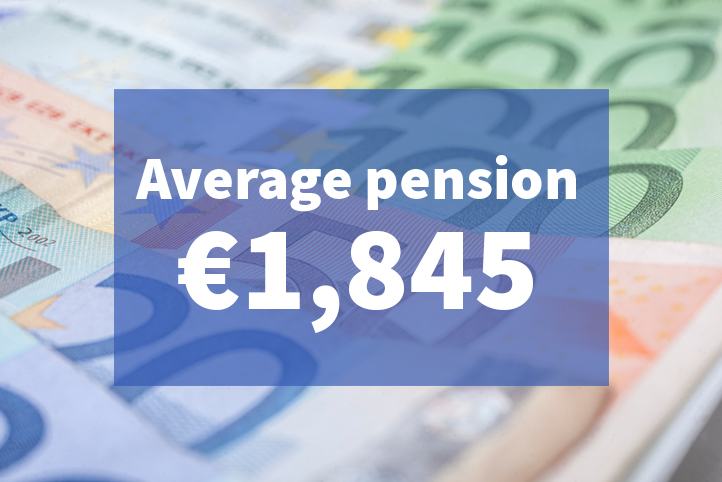 The total pension expenditure in 2022 was 35 billion euros. Every third person in Finland who has turned 16 years received a pension.
In 2022, the average monthly pension of Finns exceeded 1,800 euros for the first time. The average monthly pension was 1,845 euros (€1,784 in 2021). In 2022, the median monthly pension was 1,614 euros. These data stem from recent statistics of the Finnish Centre for Pensions and Kela.
"Nearly 70 per cent of Finns received a total monthly pension that was less than 2,000 euros. A clear majority of them were women. Ten per cent of the pension recipients received a monthly pension higher than 3,000 euros in 2022. Most of them were men", says Statistics Planner Joonas Hautamäki (Finnish Centre for Pensions).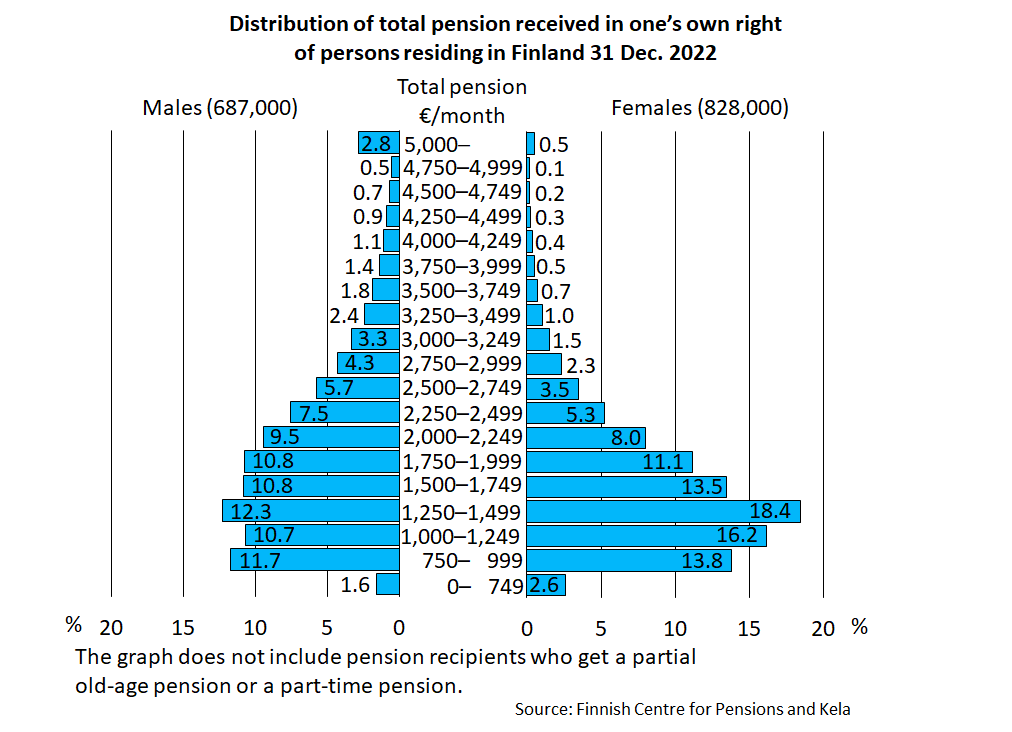 Data of graph Distribution of total pension received in one's own right of persons residing in Finland on 31 Dec. 2022 in Excel table.
In 2022, men received an average monthly pension of 2,070 euros and women 1,658 euros (20% less).
"The gender gap in the average pension level changes slowly. Over the last decade, it has narrowed by two percentage points", explains Statistics Manager Tiina Palotie-Heino.
The pension gap reflects the working life of the pension recipients – its length and wage level.
Every third Finn draws a pension
In 2022, around 1.6 million Finns received a pension. The share of pension recipients of the total Finnish population over the age of 16 was 34 per cent.
Disability pensions were paid to 181,000 persons, or more than five per cent of the working-age population (16–64-year-olds).
Total pension expenditure 35 billion euros
A total of 34.9 billion euros were paid in pensions and pension-like benefits in Finland in 2022. Of all pensions, earnings-related pensions accounted for 31.4 billion euros. Kela paid national and guarantee pensions to the amount of 2.5 billion euros.
The majority of the pensions were paid in the form of old-age pensions (€29.3 billion).
What does the average pension depict? 
The average pension depicts the average total pension of recipients residing in Finland. The pension benefits included are the earnings-related pension, the national pension, special pensions comparable to them and the guarantee pension that the recipient receives.
The data exclude persons who get a part-time pension, a partial old-age pension or only a survivors' pension.
The pension income is in gross amounts.
The data are based on joint statistics of the Finnish Centre for Pensions and Kela.
Read more: